Mediterranean style houses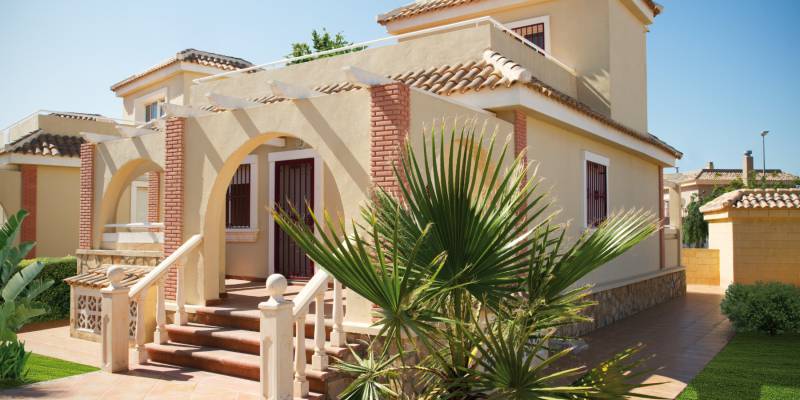 27 Apr · New Sierra Golf
Far from being outdated, the Mediterranean architectural style continues to be one of the most used and sought after by those wishing to purchase a new home.

Typical in countries that boast of being bathed by the warm sea that gives them their name, Spain, Italy and Greece have a high percentage of buildings with this cosy and familiar design.
Its simple, minimalist lines, mixing different materials in complete harmony.
Tiled floors, plaster and lime walls, stone cladding or sometimes with decorated tiles; wood in ceilings, beams, doors and windows; its unmistakable arches in steps, doors and windows.
Elements of natural wood, wicker and cane. Plaster or stone shelves that blend in with the walls of the same material. Always cosy, relaxing rooms...
And what can we say about the outdoor spaces? We all imagine a beautiful white villa, with a courtyard full of lush Buganvillas and palm trees, and in the background... the sea.
It is so marked in our retina that it doesn't matter if the house is located miles away from the coast, or even on another continent. From Portugal to
Mexico, passing through California and Morocco... Wherever you go you will find buildings that reflect the Mediterranean spirit.
With warm colours, beige, ochre, white and blue, which at the same time emanate freshness on hot summer days. And light, lots of light, thanks to the light colours that reflect the sun's rays.
Water is an essential element. Whether in fountains, ancient cantabas or modern swimming pools. There cannot be a complete picture without its freshness and murmur.
All this to create a space that evokes relaxation and well-being, a space to live fully and enjoy life and your home.
A world to fall in love with a wonderful way of life, and for this reason we invite you to get to know the properties of Sierra Golf, houses that define very accurately the lifestyle of your new life.
Image gallery
Videos
Share