Walking along the Costa Blanca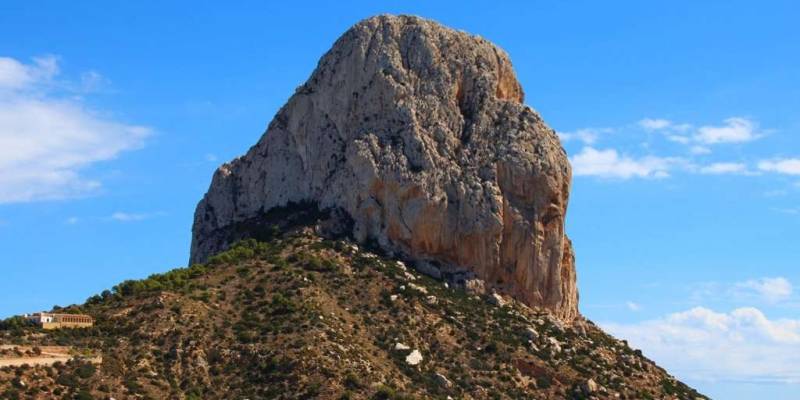 23 May · Activities on the Costa Blanca & Calida
Whether you are a regular resident of the coast of Alicante or you just visit it from time to time, today we propose some routes to get to know this magnificent area of the Costa Blanca in a different way: walking.
The province of Alicante is one of the most beautiful in terms of orography, as well as having a multitude of mountainous areas, it combines some of these with its beaches and coves.
In this way you can take long walks along mountain paths and at the same time observe the immensity of the sea from them.
Hiking lovers will surely enjoy our following suggestions, and for those who haven't dared yet, we encourage you to equip yourselves with comfortable clothes and a small backpack and enjoy the route.
1. Climbing the Rock of Ifach
The Peñon de Ifach is a rock formation in the town of Calpe. It is hard to miss, a huge boulder rising straight out of the sea and heading towards the sky itself.
This formation is a beautiful natural park that is home to a multitude of endemic species of flora and fauna, and has been a protected area since 1987.
The total distance of the path up to the highest part of the rock is 5km (up and down), and it takes about 3 to 4 hours to walk it.
This is due to the fact that the difficulty of the path starts to increase as we go up. The paths become narrower and rockier, with the addition of the last 300m drop.
In order to avoid overcrowding and to ensure the care of the environment, visits are restricted, and it is best to check the park's information page for the timetables and rules to be followed.
The visit is definitely worthwhile.
2. Orihuela Costa Route
This is a very simple route suitable for all ages and physical abilities.
The route starts at Mil Palmeras, and continues through Campoamor, Cabo Roig, La Zenia and ends at Punta Prima.
Along the way you can see ancient buildings such as the watchtower of Cabo Roig or the bridge of La Glea, as well as marvelling at the rock formations of the coves and beaches of Orihuela, and the micro-reserve of the Punta de la Glea with native species that have grown there for millennia.
3. Santa Pola lighthouse mountain range
Following the line of fossil reefs on the coast, we can find a good number of trails throughout the Sierra de Santa Pola, choosing at their crossroads if we prefer to continue the path through the interior of the mountains or with the cliffs at our feet.
4. Benissa Ecological Path
This is a simple route suitable for everyone, guided and explained by information panels along the way.
The beautiful views of the coves make it a much-appreciated trail for spending a nice day in the open air, learning about and appreciating the beauty of our Mediterranean flora and fauna.
Image gallery
Share