Costa Cálida.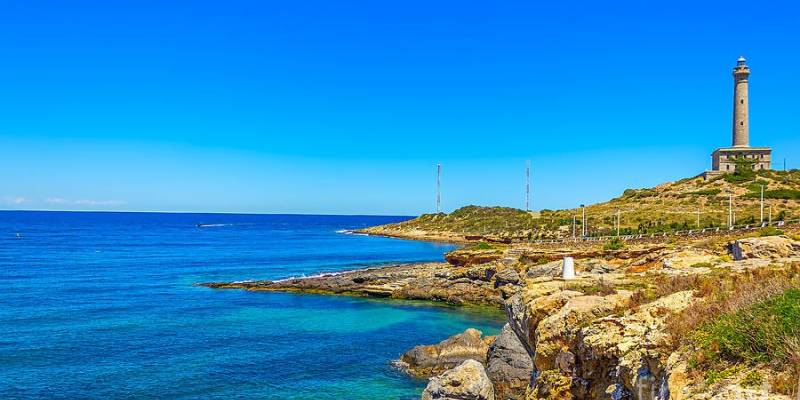 26 May · Activities on the Costa Blanca & Calida
Our Mediterranean Sea bathes many kilometres of Spanish coastline, and 250 of them correspond to the Costa Cálida, in the Region of Murcia.
Strolling along this stretch of coastline with a markedly Mediterranean character, we will begin our journey at the dunes of El Mojón beach, in San Pedro del Pinatar, on the border of the province of Alicante.
Our route towards the south will take us along an arid coastline, with a beautiful contrast between the almost desert-like terrain and the wetlands of the protected natural spaces, such as the Salt Flats and Sandbanks of San Pedro del Pinatar, where salt exploitation and natural ecosystems of salt flats, pine forests, dunes, salt marshes and canyons coexist in harmony.
Between cliffs and coves, we come across the Mar Menor, a natural coastal lagoon created by a capricious sandy tongue, with high salinity and calm, shallow waters, very popular due to its climate with more than 300 days of sunshine a year and a mild temperature of 18º, perfect for sailors and yachtsmen, and of course, bathers of all ages, who can benefit from these waters and muds full of mineral salts and marine trace elements.
A real spa in the middle of nature that residents of the Sierra Golf Resort can visit just a few minutes from their homes.
For diving enthusiasts, a visit to the waters of Cabo de Palos is a must. Diving in a marine reserve of great biological diversity as far as Isla Hormigas, is one of the pleasures of this very special tourist destination.
Nearby, the National Park of Calblanque, Monte de las Cenizas and Peña del Águila offers a variety of flora and fauna of considerable biological importance.
Approaching the extreme south, we pass through Sierra de La Muela, Cabo Tiñoso and Roldán, one of the most ecologically important areas in the southeast due to its Special Protection Area for Birds (ZEPA, the name of this ecological feature).
The park occupies almost all of the coastal mountain ranges of Cartagena, endowing these coasts with an unparalleled beauty.
Before reaching the last municipality that forms part of Costa Cálida, Águilas, we can visit the Natural Park of Cabo Cope and Puntas de Calnegre, with some of the few unspoilt beaches and coves that still remain on the peninsula.
Costa Cálida is undoubtedly another of the most charming and attractive regions to live our Mediterranean lifestyle.
Image gallery
Share