Can I place a swimming pool on my terrace?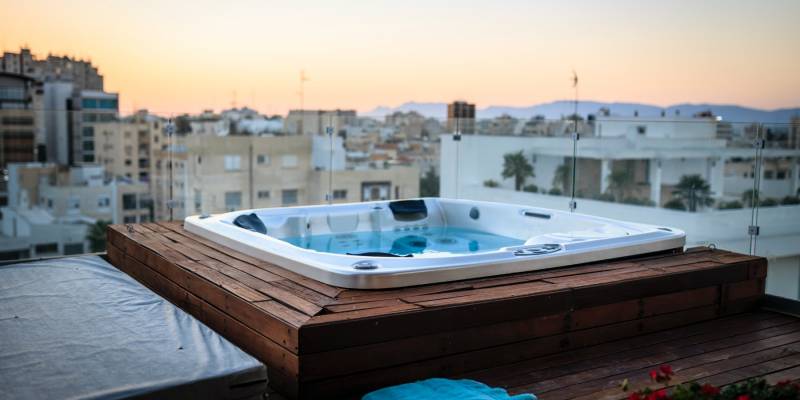 28 Jul · Propiedades
The summer season has already begun and comes, as every year, accompanied by a lot of heat and the desire to cool off in the sea or swimming pool.
If you don't have many occasions to visit the beach and your property doesn't have a swimming pool, you've probably thought about building one.
This idea is not a problem if you have land around your house, but what if you don't have a garden, or live in an apartment building? Could you put a swimming pool on your terrace or solarium?
In principle, there is no law prohibiting the installation of swimming pools on terraces or solariums, but it is logical that before you start, you should find out if your building will be able to support this new leisure element.
If you have the opportunity to speak to the builder of your home, he may be able to provide you with more accurate data on what weight the structures of your terrace or solarium can support, and although many of the most modern constructions have already taken into account the placement of a small jacuzzi, for example, this is not always the case.
You can also hire the services of an architect or engineer to carry out a study, as it may be necessary to carry out some work to reinforce the structure that will support the pool, and this is also recommended for the "harmless" removable pools.
However small it may be, a pool of 3 x 3 and 0.70cm high, for example, could hold about 4000 litres of water, which means an extra 4000kg in the structure of that place.
You must take into account the construction material of the pool. It is not the same to want a concrete pool as a prefabricated polyester pool, which is much lighter.
There are also so-called lightweight pools, specially designed to be installed on terraces.
You should also pay attention to the levelness of the ground. If your terrace leans to one side to facilitate drainage, you should place an additional floor (e.g. a platform) to level it and prevent all the weight from going to one side.
Of course, it is a good idea to check if the regulations of your community specify the prohibition of its placement.
We think that the best solution to cool off next summer on the Costa Blanca without complications, is to spend it in a new house with a private pool, like our villa Azulik, or in a residential with swimming pools in the common areas, to enjoy as the owners of the flats of the residential Green Hills already do.
Image gallery
Share