Costa Blanca: entertainment for the little ones.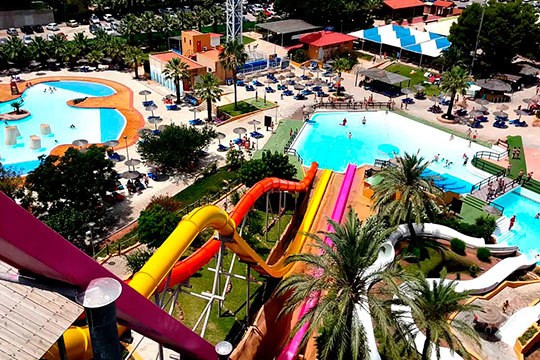 22 Sep · Activities on the Costa Blanca & Calida
Fun, fun and more fun. The Costa Blanca is a paradise for the children of the house too, as there are numerous amusement parks and themed areas designed especially for them.
In Torrevieja, you can spend a great summer day at the Aquopolis water park: slides, pools, refreshment and regain your strength for more fun in the picnic and relaxation area.
There is plenty of afternoon entertainment too: the funfair on Torrevieja's promenade has rides for both adults and children and is open almost all year round.
The Parque de las Naciones has also become a favourite spot for them, where they can run around safely and interact with the local birds.
In Santa Pola, you have the Pola Park amusement park, full of attractions for the whole family such as trampolines, rollercoasters, haunted houses, bumper cars and the big rollercoaster.
Santa Pola's aquarium is also worth a visit. Here you can discover what the marine fauna of the Mediterranean looks like, with species from the area living together daily on our warm coasts.
Rio Safari in Elche is an essential stop. A small zoo where you can walk around to learn about and meet wildlife species in a well-cared-for and protected environment.
In the summer months, you can enjoy water attractions as well as sea lion shows.
Going to Benidorm, we can find several large-scale amusement parks:
Terra Mítica, one of the most famous in Spain, where every street in the park is a spectacle: dancers, actors, etc. .....Attractions for the little ones and for the not so little ones, with about 30 attractions that get the adrenaline pumping.
Terra Natura, where some 1,500 animals of 200 different species live in enclosures that mimic their natural habitats, spread across several continents. And it is open all year round!
Iberia park. Perhaps less well known, but no less fun. Its attractions are inspired by ancient civilisations.
MundoMar. A sea animal park, with a dolphinarium, sea lions, bottlenose dolphins, penguins and parrots.
These are the biggest and most popular, but in almost all cities of the province, as well as in the more touristy urbanisations, you will find small attractions, bumper cars, bouncy castles, ball parks, street theatre .....
Are you ready for fun?!
Image gallery
Share