Sunset Beach: Apartments by the sea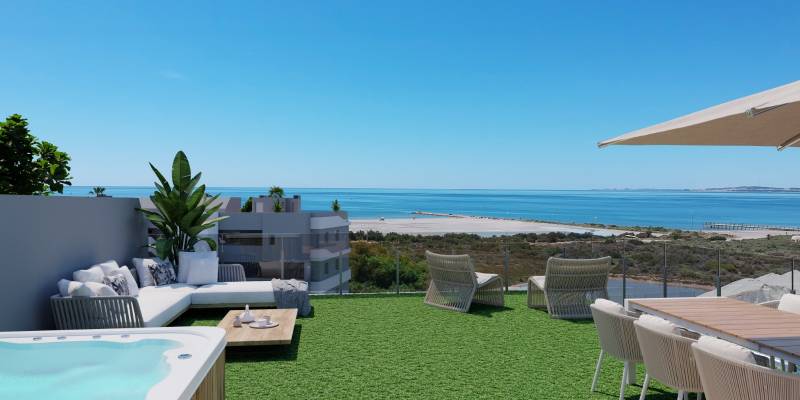 4 Oct · General information
Sunset Beach is a modern gated community of 2 and 3 bedroom and 2 bathroom flats, located in front of the sea, only 100 m from the beach of Tamarit in Santa Pola. This charming coastal town in the province of Alicante, has its beaches as one of its main attractions. Some of the most popular beaches in Santa Pola are:

Playa de Levante: This is the largest and best known beach in Santa Pola. It offers fine golden sand, calm waters and a wide variety of services, such as restaurants and water sports.
Playa de Varadero: This beach is ideal for families, as it has shallow waters and a large children's play area. It is also known for its promenade and fresh seafood restaurants.
Playa de Tamarit: This beach is quieter and is surrounded by natural dunes. It is a perfect place to relax and enjoy a quieter atmosphere. And the one you will be able to admire from your new Sunset Beach flat.
Lisa Beach: It is a small and quiet beach, ideal for diving and snorkelling due to its crystal clear waters and varied marine life.
Gran Playa Beach: This beach is located next to the marina and is known for its fine sand and clean waters. It is a popular place for water sports such as windsurfing and kitesurfing.
In addition to these beaches, Santa Pola is also famous for its fishing port, where you can enjoy fresh seafood in the local restaurants. The town itself has a Mediterranean charm with picturesque streets and a castle offering panoramic views of the coastline. It is a popular destination for sun and sea lovers on the Costa Blanca.
If you are curious about Sunset Beach Apartments, please contact our agents. We will be happy to inform you about this fantastic development.
Share