A very special organic garden.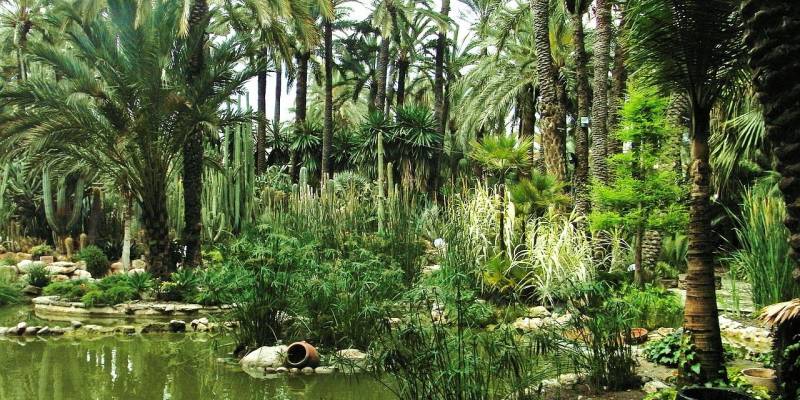 26 May · Activities on the Costa Blanca & Calida
Admiring the most famous cities of Alicante from a bird's eye view, we find among the houses and buildings of Elche a green patch of about 2 square kilometres.
It is made up of more than 200,000 specimens of palm trees, most of them date palms, which since the time when the first Muslims were the main citizens of this region, began to transform an arid and not very fertile landscape into a large and very productive orchard.
This huge man-made oasis tops the list of palm groves in Europe in terms of size and is also one of the largest in the world.
Undoubtedly, the Arabs knew how to take advantage of and increase its potential by creating an extensive network of irrigation channels, and this agricultural tradition is still maintained to this day.
The palm grove is made up of various orchards, paths and parks, each with their own particularities, but all of them of a great beauty that will leave you speechless.
We cannot fail to mention the Imperial Palm, an exceptional specimen with 7 branches growing from the main trunk. Its beauty made it admired by the Empress Elisabeth of Austria, hence its name.
It is located inside the Huerto del Cura, a beautiful garden of about 12000 square metres which also boasts other species typical of the Mediterranean climate, as well as succulent plants and cacti.
Visitors strolling through the area can turn their attention to the Ruta de las Palmeras Singulares (Route of the Singular Palm Trees).
This walk is full of beautiful specimens that are almost unique due to the rarity of their shapes. Some of them border on the limit of the possible, defying gravity itself.
For all these reasons, it is not surprising that it was cared for and protected by ancient monarchs and that El Palmeral de Elche was declared a World Heritage Site by Unesco in 2000.
The lucky ones can wake up every day admiring this beautiful oasis and feel that they can plunge into this sea of palm trees to disconnect from everyday life.
The inhabitants of the Dama IV are one of them. The excellent location of these flats gives them one of the most enviable views in the area.
And you, would you like to be that lucky?
Image gallery
Share