The kitchen of your dreams is at Urmosa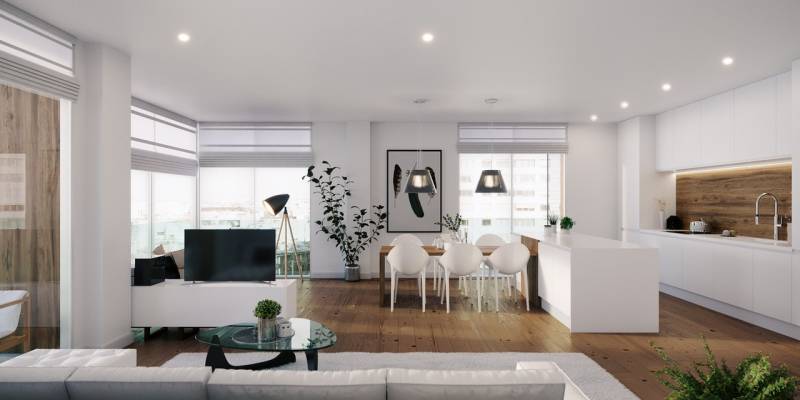 4 Aug · General information
The great advantage of buying a new home is that its design and layout are planned according to the latest trends.
Fashions change, tastes change, spaces are designed to be attractive as well as functional, and kitchens are included in this plan.
In the 1950s, kitchens were an explosion of colour and geometric contrasts.
In the 1980s, everyone wanted a breakfast bar as a link between the kitchen and living room, glass cabinets and stained glass windows displaying precious crockery were a must in at least 2 of the upper cabinets, and wood embellished doors and shelves. In the 2000s, colour combinations made our cupboards more interesting, and systems began to be integrated that made it much easier to reach the objects inside.
Today, minimalism and simplicity embellish our kitchens.
Clean colours, which always convey a sense of cleanliness. Blind doors, with the absence of handles that bring continuity and grandeur to the surfaces.
Everything is well organised so that it is as far away as possible from the "place of chaos and disorder" that it used to be after a family meal.
The predilection for open spaces throughout the home means that today's kitchen is also open. A place where whoever cooks in it is an important part of the evening and can participate in it.
An island or a peninsula, or a small table, why not, to link 2 of the most important rooms in the house.
This open design turns the kitchen into another room in which to get together with friends, being presented as an extension of the main living room, and in a way obliging us to take much more care of its appearance and decoration.
Of course, there are those who still prefer a kitchen that is closed and independent from the rest of the rooms, but this does not mean that its design is neglected or different from that of an open-plan kitchen.
For this reason, in our developments you can find the kitchen of your dreams, as we design our flats and villas with the different tastes and preferences of our clients in mind, and you can also choose how you would like the future kitchen of your dreams to look in some of those that are currently under construction.
Image gallery
Share